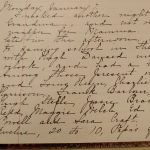 Explore old diaries from Indiana! For this program you will need the slides and the handout from this guide and you will need supplies to allow each participant to make their own journals. This program is appropriate for grades 4 and up. Students don't need to be able to read handwriting, but they will be exposed to it in this program.
Step one: Print out enough handouts for your program.
Step two: Set up your technology and review the slides.
Step three: Prep your craft.
Start your program by asking participants what they know about diaries and journals. Have they ever kept a diary or journal before? Go through the slides. Keep it short and snappy!
Pass out the handouts and work through as much of it as your group can handle. Be sure to mention that the diaries in the handout are real and exist in the collections at the Indiana State Library. Feel free to share other old diaries that you have around (maybe an old diary from when you were a kid!).
To close out the program, have the participants make their own diaries. There are lots of ways to do this from decorating notebook covers, to making a quick folded book, to making a book out of paper bags. Do some searching for "diary craft," "diy journal," or something similar to get lots of ideas.
This program can be modified for teens and older participants by using more online resources. It can be adjusted for younger participants by spending more time on the craft.
Explore an old Civil War Diary in the Indiana State Library's Digital Collections